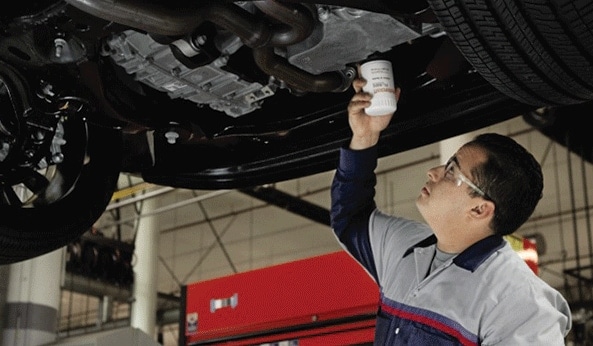 Oil Change Service


Our service department at AutoFair Subaru of Plaistow, New Hampshire understands you most likely demand a lot when it comes to the performance from your Subaru vehicle. And we want to help you enjoy that performance. Our service department is staffed with knowledgeable and expertly trained technicians who will ensure you get that performance, even if you your vehicle isn't a Subaru. We only use the recommended weight and Subaru approved synthetic blend oil for your Subaru oil changes. You can be sure we take care to do things right though regardless of the vehicle make or model.
At AutoFair Subaru of Plaistow, NH, we check your belts, hoses and battery while we perform your oil change. If it's time for a tune up, we'll let you know and schedule you for one at your convenience. We won't bother you with any unnecessary work and we won't perform any extra maintenance without your authorization. We'll always give you a fair estimate before we get started and we'll always to get you our guaranteed lowest price whenever possible. 
Here at AutoFair Subaru of Plaistow, NH we're devoted to keeping you safe which falls in line with Subaru's traditional values that they have always incorporated in their vehicles. That's why our service department will also check the general condition of your tires while we do your oil change because worn tires not only affect your vehicle's overall performance but can lead to unsafe driving conditions. We realize that low tire pressures can put undue wear on your tires so our certified Subaru technicians won't let you leave without making sure your tires are properly inflated with the recommended tire pressure. This kind of exceptional service ensures that you and yours are safe on the road. 
Your safety and satisfaction is what our service department concentrates on at AutoFair Subaru of Plaistow, NH. That's because we know what's important to a Subaru owner. We always document all of the maintenance we perform on your vehicle for your own records so you get the best resale value you can when you trade it in. We want to be your go to place for all your car care needs. We'll save you money, do things right and our fast and friendly technicians will have you on your way as quickly as possible. That attention to detail as far as service goes is what makes us confident you'll keep coming back because we treat you right. After all, your service is our service at AutoFair Subaru of Plaistow, NH.
Scheduling Your Service Appointment