Keep Your Car & Tires Running At Peak Performance
Whether your vehicle is pulling to the left or right, the steering wheel is vibrating too often or there's uneven tread wear on your tires, it may be time for a wheel alignment. At AutoFair Subaru of Haverhill, our certified Subaru technicians are here to perform the proper wheel alignment on your vehicle and to ensure the overall integrity of your car and tires.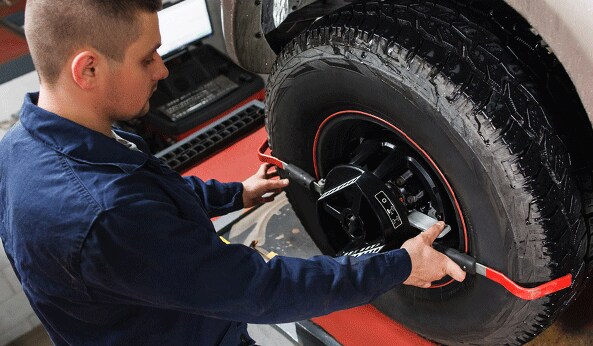 The AutoFair Subaru Alignment Difference:
•
Certified technicians align crucial suspension components
with state-of-the-art alignment technology.
•
Up-to-date specifications ensure your alignment is precise.
•
Protects and ensures the longevity or your tire investment.
•
Keeps the suspension system running efficiently.

If you notice the front tires on your vehicle seem to be wearing out faster than the other tires, or feel like your car tends to pull slightly to one side while you're driving, you should consider scheduling a wheel alignment with our service department at AutoFair Subaru in Haverhill today.
A faulty alignment may not only result in worn tire treads and ultimately affect the fuel efficiency of your vehicle, it can also lead to more serious problems with your car's brakes and suspension system. Here at AutoFair Subaru we believe in doing things right the first time. Your safety is our number one goal. 
Our expertly trained Subaru-certified technicians and mechanics will make sure your alignment meets factory specifications and your brakes and suspension are in good condition, too. Our certified Subaru technicians at AutoFair only use recommended and approved Subaru parts, fluids and lubricants to promote the longest life and best performance from your Subaru. Even if you don't own a Subaru, we can service whatever vehicle you own. Performing your alignment correctly will improve your mileage, keep your tires from wearing unevenly and keep you safe. 
Our expert staff is here to answer any questions you may have. We'll always let you know the cost of any work before you authorize it and we'll give you our guaranteed lowest price. At AutoFair Subaru of Haverhill MA, your service is our service. We want to gain your respect and confidence and want you to keep coming back for all your car care needs.
The AutoFair Subaru of Haverhill Service Difference 
With decades of expert auto service experience in the Plaistow, NH region, our service advisor staff is here to answer any question you may have regarding your wheel alignment, tires and vehicle. We are here to help you through the entire service process. Enjoy convenient same day appointments and free shuttle service too.