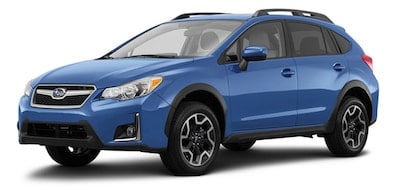 Though it's technically an SUV, the 2016 Subaru Crosstrek looks more like a beefed up hatchback -- and that's a good thing. It doesn't have the bulk you would find in a typical crossover, and it has an aerodynamic design that is modern and stylish.
You'll still get all the cargo space you want from an SUV in the all-new Crosstrek, and your passengers will be comfortable whether they are in the front seat or the back. With a smooth ride and plenty of convenience features, you won't be wanting for anything with the 2016 Subaru Crosstrek in NH.
When you visit AutoFair Subaru of Plaistow, you'll be able to compare options for the different trim levels and get a sense of all the available features in action. You can then put together the best configuration to meet your needs.
---
Stylish at Every Trim Level

The 2016 Subaru Crosstrek is brimming with details that make it more stylish and interesting.
On the exterior, those details include uniquely shaped headlights, geometric tire outlines, contrasting wheel wells, and a swooping rear end that minimizes the heft of the SUV's profile.
Inside, you'll find stylish details like rear privacy glass, steering-wheel mounted controls and an impressive infotainment system.
If you upgrade your trim level, you'll enjoy more features that will enhance the Crosstrek's style.
With the Premium trim level, you get heated body-colored mirrors, a leather-wrapped steering wheel, contrast stitching on the upholstery and other interior coverings, and a cargo cover. Upgrade to the Limited trim level and you'll get features like ambient interior lighting, leather upholstery with orange stitching, and an upgraded infotainment system and instrumentation.
Not only do some of these features improve the Crosstrek's aesthetics, but they also improve your comfort and enjoyment of the SUV. Find out how these small changes make a difference by comparing the trim levels at AutoFair Subaru in Plaistow, NH.
---
Incredible Fuel Efficiency

Most people buy an SUV for its larger space or more powerful performance -- but most people do so at the cost of fuel efficiency.
Not with the 2016 Subaru Crosstrek. The sporty SUV has incredible fuel efficiency of 26 mpg in the city and 34 mpg on the highway, for a combined rating of 29 mpg. You won't get that kind of fuel efficiency in some smaller sedans. If you switch from the continuously variable transmission to the manual, you'll lose about 3 mpg on your fuel efficiency.
If you want to get even better fuel efficiency, you can invest in the Crosstrek Hybrid, which gets an impressive 30 mpg in the city and 34 mpg on the highway, for a combined rating of 31 mpg. You can save money at the pump and feel better about the impact your vehicle is making on the environment.
---
Hybrid Model Now Available

Investing in the hybrid model of the 2016 Subaru Crosstrek isn't just a great way to save on your gas consumption and reduce greenhouse emissions -- it's also a great way to get more powerful performance.
With the standard 2.0-liter four-cylinder engine, you get 148 horsepower and 145 pounds per feet of torque. The hybrid power train has the same engine, but it is paired with an electric motor, so it gets 160 horsepower and 163 pounds per feet of torque.
The hybrid power train is paired with the continuously variable transmission and has all-wheel drive for more control. You'll be happy for the additional stability when inclement weather hits New Hampshire and you are trying to navigate icy or wet roads.
The hybrid also comes with more features than the base Crosstrek. You'll actually get most of the features that are included on the Crosstrek Limited, such as keyless ignition, 17-inch wheels, a leather-wrapped steering wheel, rear-cross traffic alert, and a pedestrian alert system. With the Hybrid Touring, you'll get a sunroof, leather upholstery, an upgraded infotainment system, and navigation.
---
Come to AutoFair Subaru of Plaistow to See the New Crosstrek in NH

You can test drive the 2016 Subaru Crosstrek or the hybrid model at AutoFair Subaru in Plaistow, NH and see for yourself how well it performs and how stylish it is in person. Once you get behind the wheel, you'll fall in love!
Call us to schedule a test drive, and we'll start working on financing offers and a trade-in offer so that you make the most efficient use of your appointment time. You won't have to spend half a day shopping for your new vehicle. You can get in and out very quickly.