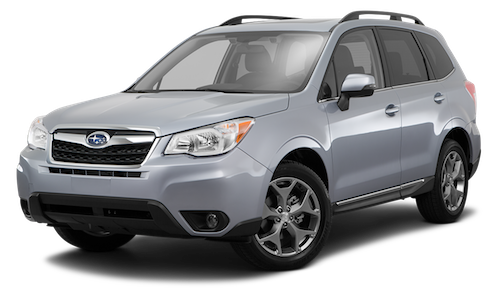 Looking for an attractive SUV with capable handling and an affordable price? You need look no further than the 2016 Subaru Forester. This compact crossover has an attractive profile and a roomy interior that offers a comfortable ride. Plenty of convenience features are available to make even the longest rides more fun.
The all-new Forester is one of the most popular vehicles at AutoFair Subaru in Plaistow, NH, and it has been winning accolades for its exceptional performance and advanced safety features. 
After just one test drive, you're sure to see why the 2016 Forester is one of New Hampshire's favorite SUVs.
---
Advanced Safety Protection

As a favorite among family buyers, it is important that an SUV be packed with safety features, and the 2016 Subaru Forester delivers.
A rearview camera is standard on the all-new Forester, as are antilock brakes, several airbags, and traction and stability control. The brakes bring the Forester to a complete stop from 60 mph in just 119 feet, which minimizes your risk of collision.
Advanced safety features on the higher trim levels include lane departure warning, forward collision warning, and a forward collision mitigation system that has automatic braking. The Starlink Safety Plus telematics system has emergency assistance that automatically notifies the authorities in case of a collision. The Security Plus system adds remote door unlocking, vehicle location and recovery service, and alarm notification.
With all these safety features, you'll have a reduced chance of collision, and you'll have the right assistance on your side in case you do have an accident or your vehicle is stolen. You'll feel much more at ease whether you are driving alone or with your family. That's the kind of peace of mind that you can't put a price on.
---
Incredible Capabilities for New England

New Hampshire has some gorgeous scenic byways that make for great family road trips on the weekends or school breaks. You can discover beautiful, new parts of the state at any time of the year.
The 2016 Subaru Forester is built for comfort and performance, ensuring that you can handle any terrain that you encounter. The base engine produces a capable 170 horsepower and 174 pounds per feet of torque that will deliver strong performance.
Plenty of optional equipment is available to improve your ride, such as larger wheels, sport-tuned suspension, and a manual transmission.
Of course, your enjoyment of the ride will go beyond what's happening under the hood .The Forester's interior ensures you have a comfortable ride even if you are driving all the way across New Hampshire. Adjustable seating, reclining rear seatbacks, a rear armrest with cup holders, and heated seats all await, depending on the trim level you choose.
Even when it is icy outside, you'll feel snug and warm inside the Forester, and you'll feel confident in the SUV's ability to handle the slick terrain.
---
Turbocharged Engine Available

There may be times when you want a little more power under your wheels, such as when you ride over rocky country roads. Maybe you just want a little more get-up-and-go for acceleration.
In that case, you can choose the optional turbocharged engine. You choose the 2.0-liter four-cylinder engine that gets 250 horsepower and 258 pounds per feet of torque. You'll find the engine to be more responsive, allowing you to reach top speeds faster and to pull the SUV out of mud or deep snow more easily.
The turbocharged engine is available with the Subaru Forester 2.0XT, and it takes the SUV from 0 to 60 in just over 6 seconds. You won't have to sacrifice fuel economy for this added power. The turbocharged engine still gets 23 mpg in the city and 28 mpg on the highway, for a combined rating of 25 mpg.
You'll get all the power you need with this optional engine, which should rise to the challenge of any obstacle you encounter.
---
Test Drive a 2016 Subaru Forester in NH at AutoFair Subaru of Plaistow

The 2016 Subaru Forester is the total package -- a stylish SUV with the comfort and features your family needs, as well as the powerful performance and safety features to offer the best drive. You can get it all for one affordable price.
Schedule a test drive at AutoFair Subaru in Plaistow, NH and discover all there is to love about the new Forester. Our associates begin putting together financing options as soon as you schedule your appointment so that you have all the information you need to make the best decision. We'll even have a trade-in offer ready for you.
Explore our extensive inventory online and check out our current financing specials. Then call us to schedule a test drive of the all-new Subaru Forester today.