Is Your Car Battery Running Efficiently?
Car battery failure is one of the biggest causes of automobile breakdowns in the New England area and AutoFair Subaru of Haverhill, MA wants to ensure this does not happen to you. Let us run a complimentary battery check for you on your next visit. If you need a new battery we'll help you select just the right one.
The AutoFair Subaru Battery Service Difference:
•
Battery specification perfectly matched to your vehicle.
•
The correct battery will be properly installed by our certified 
        technicians to accommodate the technology in today's vehicles.
•
36-Month Free Replacement/100-Month Limited Warranty.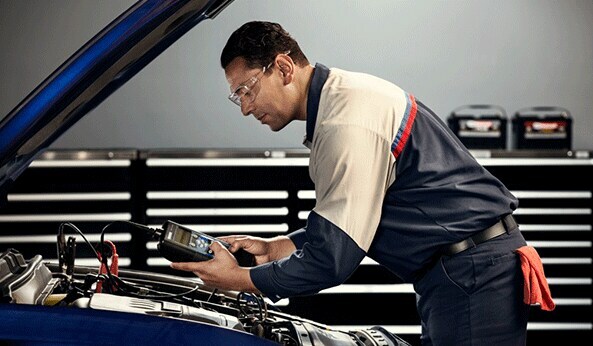 The longevity and lifespan of your car battery is very much contingent on the weather conditions and the climate where you live. Exposure to heat and humidity can significantly reduce the lifespan of your car's battery. Although the climate in Massachusetts and New Hampshire is relatively cool during most of the year, it does warm up during the late summer months. Your car's battery should typically last five to six years. However, if you travel to warmer climates during the summer or winter, your car's battery won't last as long. 
If you're planning a warm-weather getaway with your car, you should consider having your battery checked at AutoFair Subaru of Haverhill. 
What's more, if your vehicle is equipped with a more traditional type of battery rather than a dry cell, it's a good idea to check the level of the water in your battery at least once a month, maybe a little more often in the summer months or in warmer climates.
The battery in your car may not be a major concern when you're close to home, but it could prove to be an obstacle if it stops working when you least expect. We don't want this to happen to you! Our highly-trained Subaru-certified technicians will ensure your current car battery is working appropriately and is able to receive a significant charge from the alternator. Whether there is an issue with a loose or worn belt, or the battery or alternator replacement, our service department at AutoFair Subaru of Haverhill  will recommend the best service for your battery and vehicle. Your safety and complete satisfaction are our number one goal. Your service is our service at AutoFair Subaru of Haverhill.
The AutoFair Subaru Service Difference 
With decades of professional auto service experience in the Haverhill, MA region, our knowledgeable service advisor staff is here to answer any question you may have about your automobile and battery. We're here to help you through the entire service process. Enjoy convenient same-day appointments as well as complimentary shuttle service.