THE LOWEST PRICE ON TIRES GUARANTEED!
AutoFair Subaru Will Match Any Competitor Price In The New England Area, Good For 30 Days After The Purchase Of Your New Tires. If You Find A Lower Price, We'll Refund The Difference To You.
The AutoFair Subaru Difference:
•
Find the
right tire
specifically designed for your 
        vehicle and terrain, available the very same day.
•
State-of-the-art balancing
- Experience no vibrations
        when you leave the lot and up to the next 6,000 miles.
•       Thousands of tires in stock every day from Goodyear, 
        Firestone, Michelin, Pirelli, Bridgestone and more!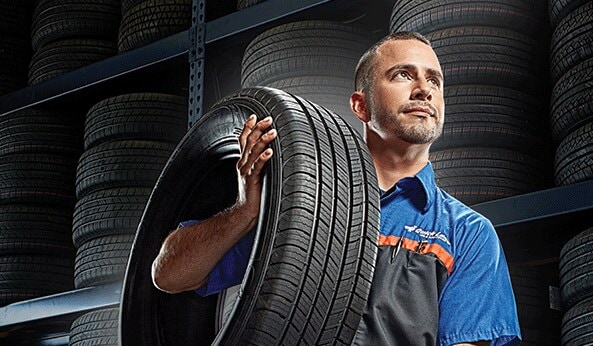 Your tires are an integral part of your vehicle. The general condition of your tires can not only affect your vehicle's performance, but your personal safety as well. At AutoFair Subaru of Haverhill, MA, the care of your vehicle's tires is a priority to us. When we perform a tire rotation on your vehicle, we not only check the condition of your tires we also check the general condition of your brakes and suspension. 
Low tire pressure can affect your vehicle's fuel efficiency and lead to unnecessary wear and tear on your tire treads. It's best to be proactive and check the tire pressure at least once a month, and even more often in colder months (like those Massachusetts and New Hampshire winters). If your vehicle is equipped with a tire pressure monitoring system you should always pay attention to any warning light or notification. When your tires are not properly taken care of, it can often lead to a more serious condition down the road. At AutoFair Subaru, we know the importance of preventative maintenance when it comes to your tires. If you notice that your front tires are wearing unusually fast on one side or the other, it may be time for a wheel alignment on your vehicle.
It's best to avoid riding around on worn tires for too long, since this can can make your brakes wear faster, too. If your vehicle requires new tires, our service department here at AutoFair Subaru of Haverhill, MA, will make sure they match your car with the right tires at our guaranteed low price. Our professionally trained and certified Subaru technicians will stay on top of your tires, ensuring you are scheduled for regular rotations to avoid uneven or excessive wear. Even if your car isn't a Subaru, we service almost every make and model of vehicle and can find the correct tire for you. 
When your vehicle is here for tire service at AutoFair Subaru of Haverhill, we'll also check the general condition of your brakes. Our certified Subaru technicians here at AutoFair Subaru are here to take care of your car service needs. Why would you trust your tires and your vehicle to anyone else? 
Discover The AutoFair Subaru Service Difference:
At AutoFair Subaru we have decades of professional auto service experience in the New England area. Our expertly trained Subaru advisor staff is here to answer any question you may have and help you through the entire service process. Enjoy same day appointments and free shuttle service, too.